THE FORCE BEHIND MIRRORS

Dr. Vijayalakshmi Goodapati
The Force behind Mirrors is Dr. Vijayalakshmi. The founder, Dr. Vijayalakshmi is charming, disciplined and a woman who is Addicted to Success. She was conferred an Honorary Doctorate (Ph.D.) by the prestigious Concord University, USA, for her outstanding commitment to humanitarian care for cancer patients. The doctorate was presented to her by Mrs. and Mr. Chandrababu Naidu, former Chief Minister of Andhra Pradesh. A bright academician, a successful sportsperson, entrepreneur, counselor, social worker, philanthropist and a happy homemaker, Dr. Vijayalakshmi is everything a woman aspires to be.
A conversation with Dr. Vijayalakshmi and one immediately learns two things about her. First, she has her eye on everything that is a happening in the international hair and beauty care scene. Second, her passion for life is so immense that it instantly catches up with others, making them feel new. Dr. Vijayalakshmi's journey is fascinating because, from the humble origins, she rose to great heights of success on account of merit, hard work, and sincerity. Born in Vakadu village, Nellore, she was always the proverbial achieve – be it sports or education – she excelled in everything she did. Building an elite brand like Mirrors Salons & Academy is a testimony to her grit and determination that in spite of her rural background, she had succeeded in an area which was considered to be sophisticated and off-bounds to the commoner.
She is an active philanthropist, sponsoring the needs of at least 100 poor and underprivileged cancer patients who come to Indo-American Cancer Centre in Hyderabad with their families to obtain treatment.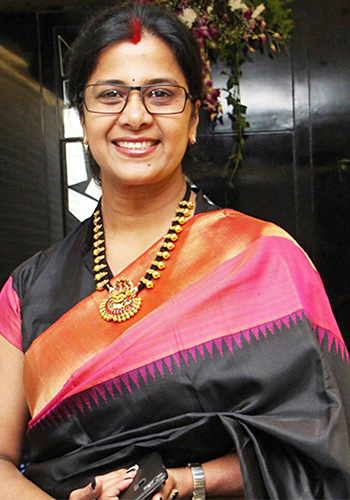 WE ARE READY TO SERVE YOU!
you can unsubscribe any time you want